Game-Changing Software for Mobile Groomers
Turn your smart phone into the smartest
tool you have.
As features and modules are added, videos will be updated.

"I love NaviGroom, it's so easy to navigate and user friendly. Anytime I have a question, I just send a text and get a response so fast, great customer service!" – Nanci C.
"I have been thrilled with Jason's service to mobile groomers when he first designed our website. We got tons of calls and bookings from that. When he developed Navigroom we couldn't have been more pleased. It made our job even easier because it's easy to use and contains all the questions I would want a client to answer and makes navigating routes a snap. I highly recommend Jason. He has never not answered a question and has fantastic response time. Do yourself a favor and get the Navigroom software. You can thank me later. KYLA and Tony 1st Place Mobile Dog Grooming."
"Loaded with great features to keep you organized, make you more efficient, and make more money. I track everything, Navigroom helped me cut my travel by 13% and increase my income by 18%, My clients love it too, creating a very professional image to maintain communication. Easy to use and quick support if you need it. I couldn't imagine running my business without it, thank you Navigroom." -Adrian P.
"I have been using Navigroom since I began mobile grooming.  It does everything I need it to do. It plans my day, maps everything out and reminds all my clients about their appointments. It saves me a lot of time. It is user friendly and the customer service is great. Jason is always available when I have a question. I highly recommend it!"   –Becky S.
"I have found the Navigroom very helpful in sending reminders to my clients. That way I don't spend my time calling them. My clients enjoy the reminders and find it helpful to their busy schedules. The cost data and the repeat appointment features are a great asset. We like that we can check our confirmations and easyto move an appointment on the calendar. The calendar is also a nice feature. You can check your availability from the calendar and check locations from the calendar. You can call or message a client right from the client information. I'm sure their are more features I haven't even discovered yet." -Kandi O.
"Navigroom has been so easy to manipulate, and so appreciated by our customers. Mobile grooming is new to our company, and having this program has made our experience so much easier!" -Valerie G.
"I have been using Navigroom for 2 years . It definitely is a must have to run the business more smoothly and efficiently. There is a great behind the scenes support team. I would highly recommend this program." -Julie P
"I'm a Mobile Groomer in Winchester Va an I use Navagroom for my scheduling appointments. I like that when someone register's on my website paws-n-all.com it also gives me a text, I make the appointment and the new client will get a text an email to let them know that they have booked appointment. It also sends email an text to remind them that they have a appointment booked for the next day. It's less time for me to be on the phone calling them as a reminder. It dose all that for me, an you can setup repeat appointments. Jason helps when you have any questions about the program also. I have recommended Navigroom
to several of my friends who are groomers also. User Friendly is what I like also I'm not a pro when it comes
to certain programs. " -Carol N.
You get 600 free texts and only 2 cents each for extras!
You've probably been considering "going computerized" for a while, but it can be a hassle and you need someone you can trust.  I'm your guy. I've been serving mobile groomers for over 20 years and I host over 130 mobile grooming websites.  You sign up and give me a spreadsheet of your customer info and that's it.  We can talk on the phone and I'll walk you through it.  You can try it for 30 days and back out, no charge.  The catch is that I don't think you'll want to back out at all.  It's a very easy system with a lot of side benefits and it helps eliminate common problems with mobile grooming.  And more features are being added all the time.
Multi-Unit Scheduling
Some owners want to schedule according to the truck, and others want to schedule according to the groomer.  Whichever one better suits your company, you can do it with our system.  You can even both at the same time.
Scheduling by the Unit
Assign groomers to the unit schedule in half hour increments.  After doing this, they will be the default groomers for those slots on the schedule.  You can still change them by first clicking a different groomer name at the
top.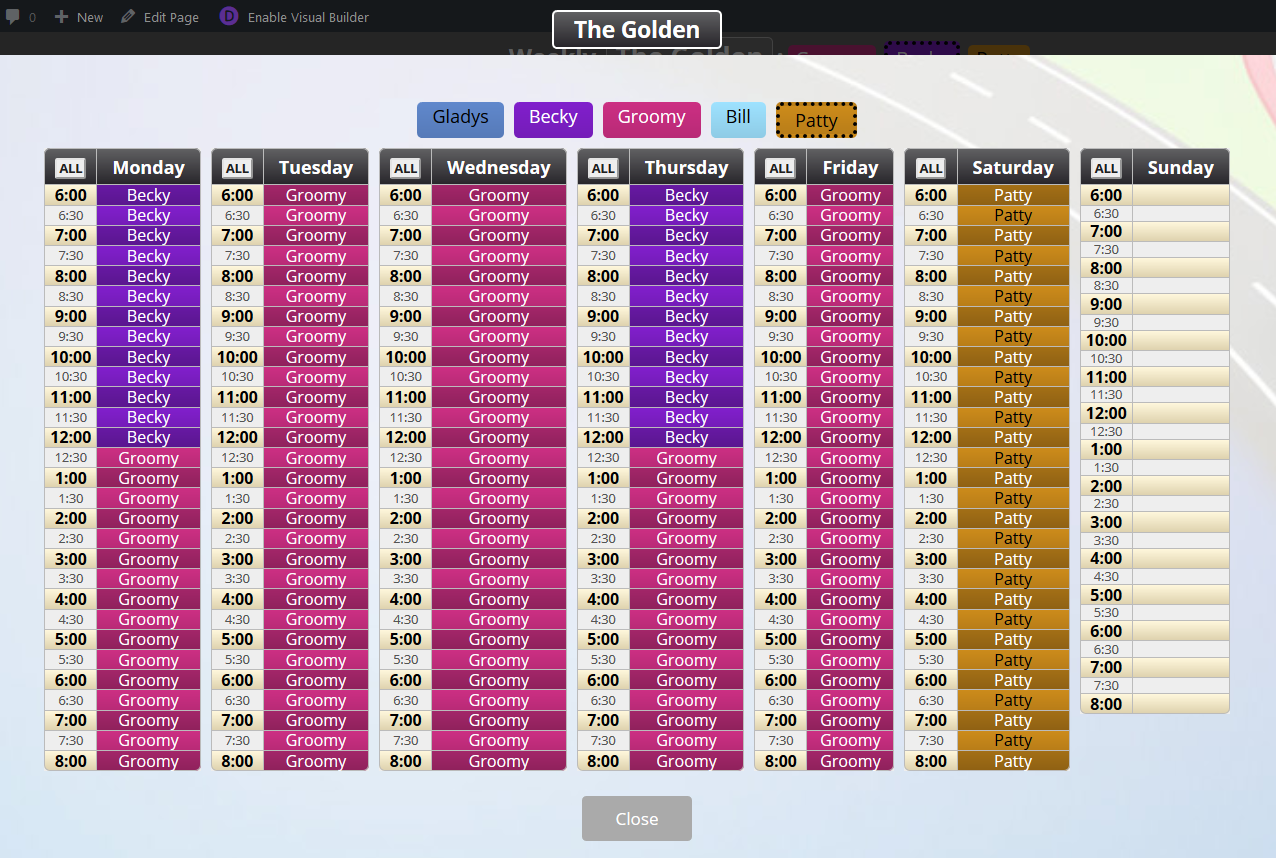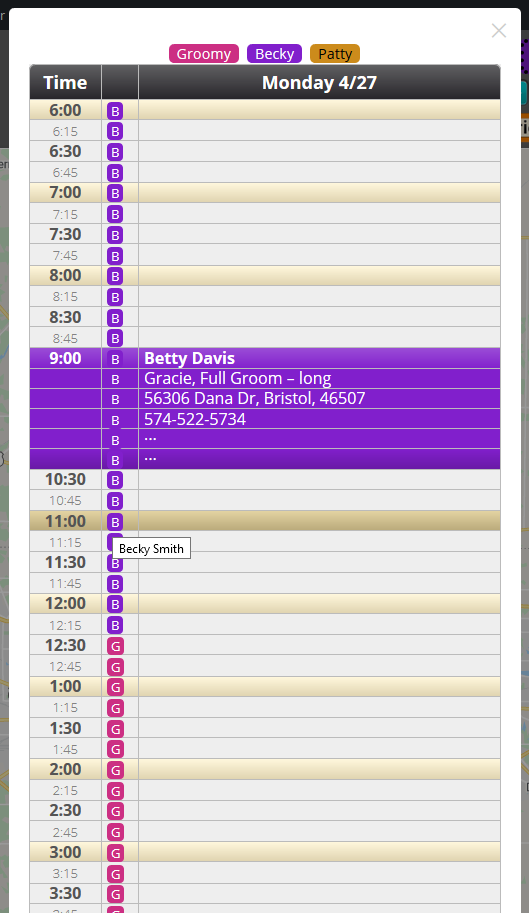 Scheduling by the Groomer
To schedule by groomer, you assign the groomer to 100% of their unit, then rename the unit so you know it's them.  Later you'll see their name in your list of units.